A Lack of Follow-Through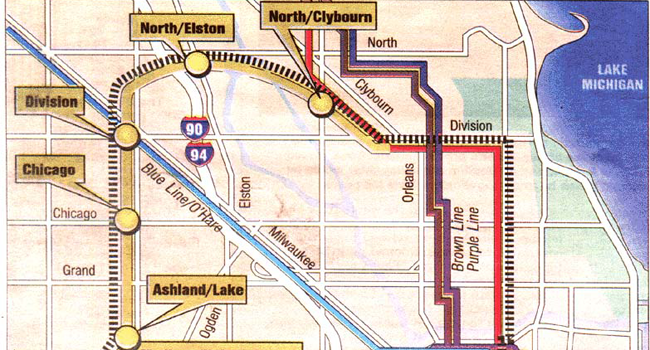 Chicago's city planners have long recognized the importance of building a dense network of rapid transit throughout the metropolitan region to ensure continued economic development. The currently planned Circle Line, and Red, Orange and Yellow Line extensions consist of a mere fraction of the transit lines proposed for Chicago over the years. Sadly, many of these proposals have languished on the drawing board, leaving behind a legacy of wasted potential.
Below is a list of some of the rapid transit expansion projects that have been proposed, designed and then never executed over the years.
New Rapid Transit Lines:
Mid-City Transitway:
A rapid transit line from the O'Hare branch of the Blue Line (connecting at Jefferson Park or Montrose) to the Dan Ryan branch of the Red Line at 87th Street, mostly parallel to Cicero Avenue.
As envisioned, it would have intersected four other rapid transit lines as well as numerous commuter rail lines.
O'Hare/Ravenswood Line:
A subway from Jefferson Park/O'Hare to the Loop.
It would have departed east from Jefferson Park (present-day Blue Line) under Lawrence, utilized the existing east-west portion of the Ravenswood (present-day Brown Line) between Kimball and Damen, and then turned south under Sheridan and Lake Shore Drive to the Loop.
Transit Line Extensions:
Schaumburg Blue Line Extension:
A 10-mile extension connecting Schaumburg and Woodfield Mall with O'Hare and existing rapid transit service via the Blue Line.
Blue Line Forest Park Branch Extension to Oak Brook:
A 15-mile extension connecting the current terminus of the Blue Line at Forest Park to Oak Brook, providing service to Oak Brook Mall, office parks, and the I-88 research corridor.
Skokie-O'Hare Connector:
An extension of the proposed Mid-City Transitway six miles north to the Dempster Skokie Swift (Yellow Line) terminal.
Englewood Extension:
An extension of the present-day Green Line from Ashland/63rd to Midway Airport via an elevated line along 63rd Street.
Humboldt Park Branch Extension:
An extension of the now-defunct Humboldt Park branch from Lawndale to the city limits at Harlem. It is believed that this extension would have provided enough ridership to avert the closure of the Humboldt Park branch in the 1950s.
Belmont Avenue Extension:
A branch along Belmont from the present-day Blue Line O'Hare branch to approximately Cumberland Avenue.
California Avenue Extension:
A branch from the present-day Brown Line at California/Leland north to the city limits at Howard Street.
Further details about these lines and others are available at Chicago-L.org.